GIGS-WHERE DID WE PLAY?
Let us know if you have any memories of any of the venues at which we played!!! Click on a year below to see all the dates the band played!
Posters (click on thumbnail for full size image)
Special Focus: Marquees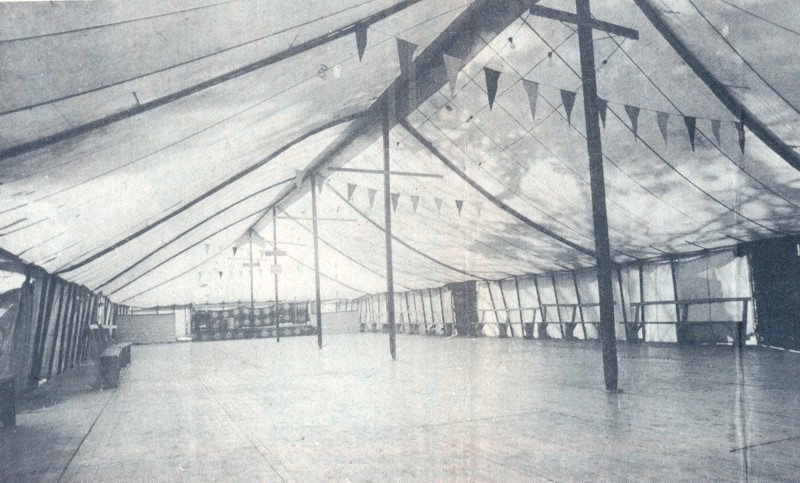 The photo above is of the marquee for the July, 1982 Geesala Festival in County Mayo. During their five years in Ireland, the band played many such venues. Every summer, across the length and breadth of Ireland, these makeshift dancehalls dotted the country side, bringing "showband" entertainment to the most rural settings. Usually, the tents were pretty crude, cold and damp. As you can see, there was little in the way of creature comforts. Bands usually had to change clothes either in their van, or behind the stage, neither of which was an enviable task.
Usually sponsored by local football clubs, or other volunteer organizations, Festivals provided a way to earn some much needed operating funds, as well as provide "professional" entertainment for the masses. Festivals were a major local event, garnering extensive newspaper coverage, and usually tied into other events in the locality. They generally lasted two weeks, were held in the summer, and were accompanied by bar extensions in local pubs.
Although some still exist, this form of Irish entertainment, like the era of the showband itself, all but died in the 1980's as discos and bars replaced the dancehall as the main form of entertainment across Ireland.
Kim and the band pay tribute to the cold tents, wobbly stages, questionable power supplies, and horrible acoustics which were the Irish Marquee!
List of Festivals the band played:
Borrisokane Festival, Co. Tipperary - 1979
Tourmakeady Summer Festival, Co. Mayo - 1979
Charleville Cheese Festival, Co. Limerick - 1979
Ashbourne Festival, Co. Meath - 1979
Clifdfen Carnmival, Co. Galway - 1979
Templemore Carnival, Co. Tipperary - 1979
Sportlan/Mitchel Monster Festival, Castlebar, Co. Mayo - 1979
Killala Summer Festival, Co. Mayo - 1979
Dromore West Annual Carnival, Co. Sligo - 1979
Kilkishen Carnival, Co. Clare - 1980
Finuge GAA Carnival, Co. Kerry - 1980
Killala Easter Carnival - 1980
Tourmakeady GAA Festival, Co. Mayo - 1980
Ashbourne Festival, Co. Meath - 1980
Glanworth Harbour Festival - 1980
Templemore Carnival, Co. Tipperary - 1980
Swords Festival, Co. Dublin - 1980
Easkey Festival, Co. Sligo - 1980
Westport Cailin Deas Festival, Co. Mayo - 1980
Killala Summer Festival, Co. Mayo - 1980
Ballintubber Harvest Festival, Co. Mayo - 1980
Dromore West Annual Carnival, Co. Sligo - 1980
Kilkishen Carnival, Co. Clare - 1981
Finuge GAA Carnival, Co. Kerry - 1981
Crossmolina Nephin Festival, Co. Mayo - 1981
Oughterard Queen of Connemara Festival, Co. Galway - 1981
Skibbereen Festival, Co. Cork - 1981
Geesala Community Festival, Co. Mayo - 1981
Crossmolina August Festival, Co. Mayo - 1981
Doonbeg Carnival, Co. Clare - 1982
Nephin Festival, Crossmolina, Co. Mayo - 1982
All Ireland Sheep Shearing Festival, Millstreet, Co. Cork - 1982
Ballybunion Bachelor Festival, Co. Kerry - 1982
Kildorrery GAA Mid Summer Festival, Co. Cork - 1982
Croom Festival, Co. Limerick - 1982
Geesala Community Festival, Co. Mayo - 1982
Regatta Carnival, Carrick-On-Shannon, Co. Leitrim - 1982
Festival of the Carberies, Lepp, Co. Limerick - 1982
Claremorris Festival, Co. Mayo - 1982
Festival of the Carberies, Lepp, Co. Limerick - 1983
Tourmakeady GAA Festival, Co. Mayo - 1983
Geesala Community Festival, Co. Mayo - 1983