History of the Band
Like most bands, the story of the Kim Newport Band stretches back a few years and involves a number of musicians. This brief history tries to identify and more especially thank all those who, knowingly or not, contributed to the formation and success of the Kim Newport Band. We have included the names and photos of some of the people who were a part of our history and we hope they don't mind!
Kim & Gerry.
| | |
| --- | --- |
| | |
| Pol Brennan | Anthony McGoldrick |
The Early Days
1971- Summerhill College, Sligo Ireland: The year was 1971 and Gerry was a student at Summerhill College, a Catholic boarding school for boys. He had moved from California to Ireland when his parents returned home in June of 1970. Although Gerry had always "wanted" to play guitar, it was at Summerhill that Gerry learned more than A, D and E and was really introduced to playing. He credits four key people for helping him: Anthony (Magoo) McGoldrick from Collooney, who was a dorm mate of Gerry's and played guitar. He taught Gerry many chords and songs and played in his second group, Feedback. Another classmate, although a year younger, was Pol (Peaceful) Brennan who taught Gerry even more songs and chords and then went on to international fame with Clannad. Gerry credits the late Father John McGowan who encouraged him to play "in public" and got him his first solo "gig" at a benefit concert in Grange Hall, a village outside Sligo on November 1, 1971.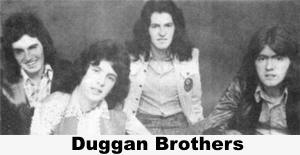 Duggan Brothers: Finally, Gerry credits Sligo's own Duggan Brothers (later called Brotherly Love) for their support and encouragement in the early days. His bands played relief to the Duggans on several occasions and took over from them as the relief band in the Silver Slipper, Strandhill. After leaving school, Gerry lived in a flat a few doors down from their house on Temple Street in Sligo where he used to visit them and spent hours learning from Gerry (RIP), Ian, Vinnie and Joss. Ian was especially helpful in allowing Gerry and the lads to play relief to them. They were always very supportive.
The first band Gerry joined was Every Mother's Child which made its debut on May 13, 1971 at a concert in the Girl's Club of Sligo. The following Saturday, May 15th, the band played at their first "dance" which was Summerhill's Graduation Dance, but by then they had already changed their name to Blue Glass. They played "relief" to local disc jockey Mike Cullen. Blue Glass was Paul Hogan from Sligo (guitar and vocals), Gerry (guitar), and Tom Phillips from Beltra (drums).
1972 - "Feedback"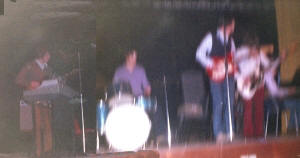 Feedback is born! March 5th, 1972
Blue Glass didn't really play much after that and Paul, the band's lead vocalist, left Sligo. When school started again, Gerry and Tom still wanted to carry on the band...enter Gerry's dorm mates: In late 1971, the band expanded, adding Tony Gilhawley (Ballymote - keyboards), Fergus Burke (Killybegs - bass), and Anthony McGoldrick (Collooney - guitar).
Being together most of the time, the band practiced a lot but didn't get very far at first. Finally, on March 5th, 1972 the band made their debut at a concert held in Summerhill's Fr. Flanagan Hall (gym). Pictured at left. The band performed Coz I Love You, Roll Over Beethoven, Smile Away, Day After Day, and Jeepster; and then it was over.
The band's next big break came over Easter vacation when bass player Fergus Burke managed to get the band a gig playing relief to the Denver Showband (who later became The Rascals). The band borrowed two guitars and headed to Laghey Hall, a small village near Donegal town. Gerry's friend, Senan Turnbull from Foxford, stood in on keyboards for an absent Tony who couldn't make the trip. The band played for 1 1/2 hours (badly) and the event was taped by honorary band member and dorm mate, Cilian Rogers.
The band's next appearance was May 10, 1972. Feedback played relief to Sligo's Duggan Brothers in Summerhill College once again at the school's Graduation Dance. The Duggan's later changed their name to Brotherly Love and had some success nationally in Ireland. Coincidently, Feedback was also the first name used by U2 after they formed at their high school in Dublin...of course that was in 1976, a full four years later!
By a quirk of fate, Feedback's next appearance was again on May 15th, but this time at a charity concert organized by the Marist Past Pupil's Union in the Gaiety Cinema where they were introduced as The Feedbacks. They also played in the Imperial Hotel at the Mercy Convent's graduation dinner dance (as usual) in relief to the Duggan's again on May 26th.
Anthony McGoldrick's uncle approached the boys about playing a whole dance (9:30 p.m. to 1:30 a.m.) the following night in The Great Southern Hotel. Having no equipment of their own, the boys asked the dance promoter if they could have £12 to rent equipment. For that money they got: 1 Marshall 100 W amp with 4 x 12 speaker cab, 1 Marmac Super 60W amp and a set of 2 x 12 speakers, 1 Marmac 60 Watt PA Amp with 2 - 12" speaker cabs, a Shure mic and stand, and an organ!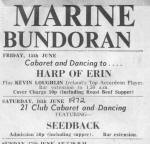 On June 16th their "big break" came when they played at the 21 Club in the Marine Hotel, Bundoran. Unfortunately, they were advertised as Seedback. The next date they played was in Bohola, Co. Mayo with only Gerry, Tom and Tony (playing bass for the first time in his life). The band played again about a year later in Dublin with Tony, Tom and Gerry providing the entertainment for a Terenure Tennis Club social. However, in the end, the classmates all went their separate ways and only Gerry remained in Sligo.
As 1972 drew to a close, Gerry was asked to join a new band, Moonwind, being formed by Francie Roberts and Patrick Phillips (Tom's brother) on drums. Their first gig was a "Christmas Hooley" on St. Stephen's night (December 26th), but Francie never arrived. Gerry and Patrick played on with local singer Charlie Grannison standing in on guitar and vocals. With Francie out, Gerry and Patrick enlisted friend, Tommy Rosney, as their vocalist and played a handful of dates with guitar, drums and a singer. Moonwind didn't last long.
1973 - Aquarius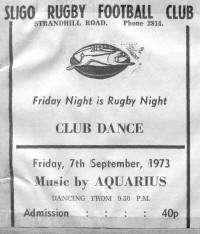 In early 1973, Tommy left the band and Gerry and Patrick joined with Henry McGlade (bass), and Linda Marshall (vocals) to form Aquarius. Henry and Linda had previously been with Tangents, which also featured Liam and Michael O'Donnell. The O'Donnells would recruit brother Joe, and form Trinity. Aquarius became very popular around Sligo with regular gigs as the "relief band" in the Silver Slipper Ballroom, Strandhill, and on their own in the Sligo Rugby Club. The band's popularity continued to grow and they eventually started playing outside town, including relief at several local festivals.
Around this time, Henry asked Gerry if he would be interested in traveling to England to do a short tour with the Ritchie Fitzgerald Ceili Band. Gerry jumped at the chance and headed off to England in Ritchie's VW Bug with his brother Barney Fitzgerald (keyboards), and a vocalist from Bundoran, Fonsie traveling in the other car. They did seven nights in English halls with the help of drummer, Jimmy, who already lived over there.
In mid 1973, Patrick Phillips left the band to move to Dublin and was replaced on drums by a young Dick Lynott, who had previously played with local group, Dave and the Friends with Dave Gordon, Joe Foley and Rip Carty. A short time later, Henry relocated to Castlebar with Fitzgerald's Music Center which would play a major role in the creation of the Kim Newport Band. He was replaced on bass by Kieran Dykes of Sligo. Dick, Gerry, and Kieran played as Aquarius with Linda on vocals.
In October, 1973 Gerry took a job with Unit Marketing, an English company that sent him to Bray, Co. Wicklow for a six week training course and then on to England. Aquarius broke up. giving up the resident relief gig to Sligo's O'Donnell Brothers. Within weeks, Gerry realized the position was not for him, left and returned to Sligo. He arrived back in Sligo with no band and no gigs, but soon joined up with Kieran and Dick again for a short while until Kieran left the band.
1974- Easy Listenin'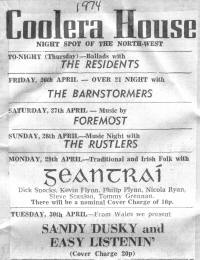 In early 1974, a friend from Summerhill College who had played with the "Generation Gap" (see the ad for the concert above), keyboard player Gerry Feeney, asked Gerry to join a new band being formed by a female vocalist who had just moved to Sligo from Wales, Philomena Ellis. Phil had come from a long line of entertainers who performed in the English workingman clubs as the Duskeys, and wanted a stage name which reflected her heritage. Gerry suggested the name of his favorite baseball player, Sandy Koufax, and Sandy Duskey was born! Unfortunately, because the band needed a bass player, Gerry had to pick up the bass guitar which he got from Henry McGlade. The final piece in the puzzle was a drummer and they found one in Sean Savage from Ballisodare. Sandy Duskey and Easy Listenin' started playing in local pubs for a "cover charge" which was quite a big step in 1974! They gained popularity quickly as Sandy's easy going stage presence and excellent vocal range made her a natural for the cabaret scene. In fact, the band started playing so much that Sean Savage had to quit as he also had a day job. Gerry brought Dick Lynott into the band to fill the vacant drummer's spot. A little afterwards, Gerry Feeney also left the band. The band discovered the young, promising bass player James Blennerhassett. Both Dick and James would later play with the Kim Newport Band, although at different times. Gerry switched back to guitar. From time to time, the band performed under the old name, Aquarius, when they were offered local dances, maintaining Easy Listenin' for the cabaret scene.
On May 14th (the night before May 15th...see above) Sandy Duskey and Easy Listenin' were booked to play in Coolera House outside Sligo, but ended up appearing as just Easy Listenin' as Sandy called to say she was quitting the band to join Gary Street and the Fairways who were managed by Tom Kelly (who later managed the Kim Newport Band) and also featured Michael Kelly on bass (who later became Sandy's husband!). Complicated enough yet?
Sandy played her last date with the band on June 5, 1974 in the Melvin Lounge, Kinlough. Gerry, James, and Dick were undaunted and continued playing as Easy Listenin' and used the name Aquarius for dances. They became quite popular as they were the only local group playing songs from Status Quo, Queen, and David Bowie. Throughout 1974, the band played small dance halls and pubs across Sligo County.
Late 1974-1975 - Magic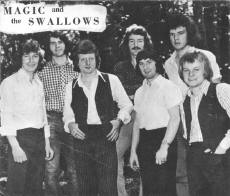 In late October, Gerry heard about auditions for a new "pop" band being put together in Galway by Johnny Carroll, formerly of the Premier Aces and Murphy and the Swallows. He went down to give it a try and got the job with the newly formed Magic and the Swallows.
The brain child of Noel Carty and Joe O'Neill, the soon to be renamed Magic and the Magic Band was launched in Dublin and featured what was touted as a "£2000" electric light up suit (about $3000 at the time). The suit was actually a battery

pack and some 12 volt twinkling Christmas lights. In the photo at right, the band members were (L to R) Mickey Belton (drums), Gerry (lead guitar), Johnny Carroll (trumpet), Frank Clancy (keyboards), Joe Bernie (sax and flute), John McKenna (bass) and Kevin Walsh (Magic). The band played mostly hits from the 50's and 60's and released several records including Neil Sedaka's "Calendar Girl" and "Happy Birthday Sweet Sixteen." Calender Girl" was actually a hit, reaching Number Four in the Irish Top Twenty (click on photo at left to see full size cover).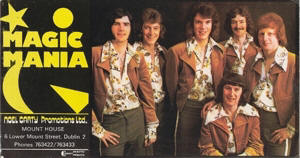 The band played all across Ireland in what we would later realize was the "beginning of the end" for the Irish showband era as discos started to spring up across Ireland in the mid 70's and hotels started "bar extensions" which took patrons away from the dance halls. Click here to hear Gerry sing on RTE's Ken's Club on March 10, 1975. From November 1974 through April 1975, Gerry played 140 dates with the Magic Band, but soon tired of the lack of "adventure" in the music and decided to leave the band and return to Sligo. Magic and the Magic Band went on and, in fact, Kim later sung a duet with the "New Magic" as an entry into the Eurovision Song Contest.
1975-76 - The Sundown Years

Joe, Dick and Gerry Sundown on November 8, 1975 (click on photo to enlarge)
Upon returning to Sligo, Gerry reformed with Dick Lynott and James Blennerhassett, but called themselves Sundown and the Gordon Lightfoot hit of the same name became their "theme song." Soon after though, James left to pursue a different direction in music and was replaced by Joe Foley of Dave and the Friends. Sundown was an immediate hit on the local scene and earned a spot as the relief band in the Astoria Ballroom in Bundoran where they played up to four nights a week in support of bands like Horslips, the Memories, Tweed, Chips, and Joe Dolan. Click here to hear a live performance of Sundown.
From April, 1975 through April, 1976, Sundown played every place they could in and around Sligo and the surrounding areas. Favorite spots included Riverstown, Bundoran, Coolera House, the Blue Lagoon in Sligo, the Yeats Tavern, and the Canavaun Lounge in Cliffoney. In the early summer of 1976, growing homesick for the United States, Gerry purchased a one way ticket to California, saying goodbye to his band mates, and the music scene in Sligo.
After returning to Southern California, Gerry was introduced to female vocalist, Sue Cruttenden by an old high school friend, John Schultz. Sue and Gerry began rehearsing to put together a duo to play local clubs and restaurants doing easy listening music from the likes of James Taylor. Before their first gig could be arranged, Sue announced she had been offered a spot with Bill McClure, resident singer and part owner of "Mr. Mike's," a local restaurant and lounge. By coincidence, Bill was also looking for a guitarist and Gerry got the job. Within a few weeks, Bill added another female vocalist, Kim McCormick, and in October, 1976, Gerry met Kim for the first time.
Meanwhile....
In 1974, Kim was a student at UCLA majoring in Biology at about the same time Gerry was treading the boards with Magic and the Magic Band. In 1975, she transferred from UCLA to UC Irvine to major in dance, which had been her passion since childhood. She immediately fell in love with performing and auditioned for, and got a spot with, the Young Americans. The Young Americans were (and still are) a select group of 30 hand picked, highly talented college students, who travel the country doing a kind of family oriented, Broadway-style show for all ages. Kim's time with YA culminated in a series of performances at the foot of the Washington monument in the summer of 1976 to honor the United States' Bicentennial.
After returning from Washington, Kim began looking for an opportunity to sing a little closer to home and came across an ad at UC Irvine for a female vocalist. Kim went down to Mr. Mike's to audition and got the job. Before starting with the band, Kim came one night to listen to the type of music they did and Kim met Gerry for the first time.
Together At Last....
After meeting at Mr. Mike's, Kim and Gerry began dating and in May of 1977, seven months after first meeting, they were married and continued to perform together at Mr. Mike's. In early 1978, Gerry left the band and decided it might be time to return to Ireland as Kim could definitely hold her own with any female vocalist in the country. At the same time, he was offered a position with Fitzgerald's Music Centre in Sligo by Tony Rouse through his old friend, Henry McGlade. The timing was perfect, and Gerry left for Ireland on April 3, 1978 to set up house in Sligo. Kim stayed on in California to complete her degree at UC Irvine.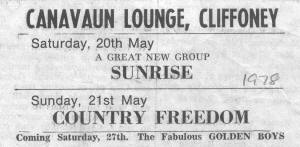 Once in Sligo, Gerry immediately contacted Dick and Joe who were still playing as Sundown with Dave Gordon of Dave and the Friends on vocals. Gerry, Dick and Joe played their first gig in the Canavuan Lounge in Cliffoney as Sunrise. Over the next few months, they played a dozen or so gigs, but spent most of their free time rehearsing songs for Kim's arrival in Ireland after she graduated from UCI. To see the rest of the story, go back to our home page!