The Musicians
During its five years touring Ireland, the Kim Newport Band underwent several lineup changes.
Click here for individual profiles of the the band members.
Kim Newport and California (July - August, 1978)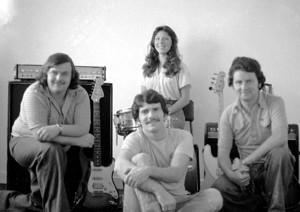 The Original Band: (L to R) Dick Lynott (drums), Gerry Gallagher (guitar), Kim Newport (vocals), and Joe Foley (bass). Formed in June, 1978, Kim Newport and California was the first name of the band. Gerry brought together former band mates Joe and Dick, who had been with him in Sundown, before he left for the States in late 1976. Knowing each other well, it didn't take long for the band to hit it's stride musically. With the addition of Kim as lead singer, they played locally under the name Kim Newport and California. However, as they traveled further, it became obvious they would need a fifth member to compete with bigger bands on the dance circuit.
---
The Kim Newport Band I (August 1978 - February, 1981)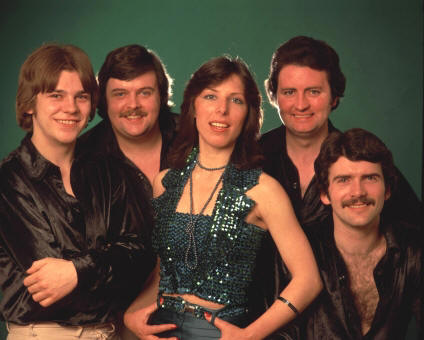 In late 1978, the band added lead guitarist Seamie McGowan, also of Sligo, who added a second lead guitar to the band's sound. Seamie was a young guitarist, influenced mainly by Rory Gallagher, complete with a Vox AC30 sound. Seamie had been playing with local pub groups and fit into the band's lineup nicely. He would be the only band member to remain with the group until the last gig. The band cut it first three records, Stop Think, (commissioned by the Northwestern Health Board's anti-drink campaign) Midnight Lullaby, (a song penned for Dolly's brother, Randy Parton), and A Love Song (originally released by Anne Murray), all of which were released on Hawk Records. This lineup would
last longer than any other lineup.
---
Kim Newport Band II (February - June, 1981)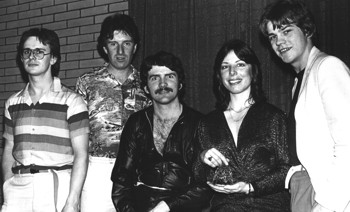 (L to R) James Blennerhassett, Seanie Ryan, Gerry Gallagher, Kim Newport, and Seamie McGowan.
In February, 1981 the band was growing in popularity and started to travel further away from Sligo. They added two new musicians, James Blennerhassett of Sligo on bass (who has since gone on to be one of the top session players in Ireland and tours regularly with Daniel O'Donnell); and Seanie Ryan from Thurles on drums (he would later go on to join top Irish pop band, Tweed). Both were accomplished musicians, but Seanie was the first band member not originally from Sligo.
---
Kim Newport Band III (June - December, 1981)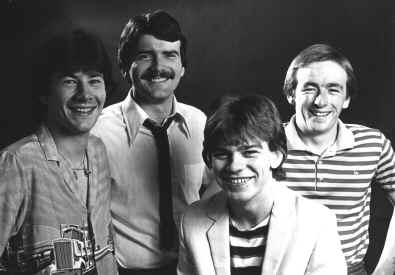 (L to R) Brian Mullin, Gerry Gallagher, Seamie McGowan, and Paul Hamilton.
Unfortunately, Seanie and James moved on more quickly than anticipated. Seanie was asked to join Tweed, an indication of his talent as a drummer and James went into session work. In late June, 1981, the band added two new members, continuing to feature twin lead guitars behind Kim's vocals. Brian Mullen, originally from Omagh, but living in Sligo, joined on bass guitar. he had never played in a band before. Paul Hamilton, a Donegal native, was recommended by Ted Ponsonby of the Rascals after he saw him playing in a Donegal pub group.
---
Kim Newport Band IV (December 1981 - September, 1983)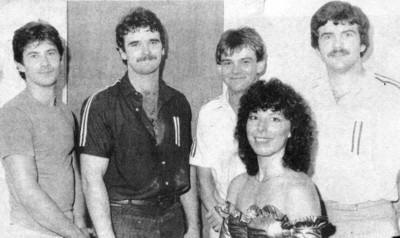 The final line-up of the Kim Newport Band came together in December, 1981 and remained in place until September, 1983 when Kim and Gerry returned to America. Paul Hamilton left the band after a short time, as he didn't like being on the road, and he was replaced on drums was Gerry's brother, Michael Gallagher, who came from the States to add a solid beat to the band's sound. Michael had previously lived in Sligo and played with legendary local group, Katch with Stan Burns on Sax and James Blennerhassett on bass for a time a few years earlier. After the band's breakup, Seamie went on to prominence as lead guitarist for Sligo's top rock group of the mid 1980's Those Nervous Animals. Michael went on to play in a local pub group fro a spell and Brian joined a top pop group from Northern Ireland.
---
The Last Gig...Ever!
The final gig for the band was actually without Kim. After playing the final Kim Newport date in the Baymount Hotel, Strandhill, The boy came together as California to play at the Over 21 Club in the Sligo Park Hotel (formerly Jury's Hotel ).